---
26
Monday 26th November 2012
Held at York Hall for the second year running the, you might not think the phrase 'A Boring Conference' would inspire a sold out day of talks on topics ranging from taking photographs of IBM cash points to the history of the yellow line – but it did! Formed after the cancellation of the Interesting Conference, the brains behind the Boring Conference finally got the issues we want to speak about across, mainly the true height of Shia LaBeouf and where one can find a collection of lego vignettes.


York Hall has a majestic school auditorium feel to it – rows of chairs, banners swooping across an the stage and a big screen all ready to show some shoddily made Microsoft Power Point presentations. It's really the only place the Boring Convention could happen.




This convention is also the only place that you could get a talk about how our toilets can save lives (the word shit thrown about, facts about diarrhoea and Japanese built-in bidets included) followed by the Top Five American Breakfasts. Actually, that talk taught me a lot about the inner workings of the American morning meal - the International Pancake House reaches as far as the Virgin US Islands, Denny's has a promotional Hobbit menu on the go (Bilbo's Berry Smoothie, anyone?) and that you can still become hungry just three seconds after having your head filled with talk of bio-fuels and sewage systems.




Food was a major topic actually and (man after my own heart) Ed Ross presented 'How I Like My Toast'. Some top tips included how to avoid condensation on your toast with the creation of the toast tent.



Helen Arney spoke about the creation of the Casio keyboard Yamaha PSR-175 (discontinued). You know the keyboard – the one that has that cracking DJ function and the strange 'Dictionary' button? For those who didn't know, Arney helpfully read from the instruction manual whilst simultaneously playing a stunning samba preset tune. The first (and unfortunately only) Dulex colour chart of the day was whipped out during this presentation highlighting the beautifully boring 'Fossilised Crow' grey (the colour you get when you mix the keys together, duh).




Another highlight was Roo Reynolds collection of collections. From boxes and boxes of Star Wars lego to nicking his gran's teaspoons, Reynolds opened up our eyes to the world of categorising, organising and then making a handy website to filter all the data. Some things he likes to collect include photographs of Lego vignettes, the inside of fridges and Things Riding on Things.




This also fitted in nicely with the talk on the great website celebheights.com, which offered a brief analysis of masculine worries. This was great because we got to see pictures of Tom Hardy and Alan Rickman.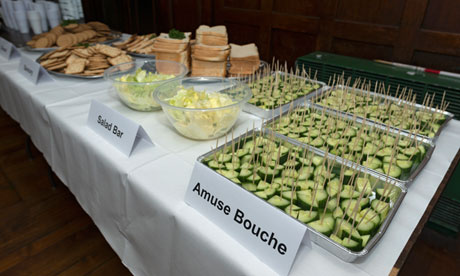 With a buffet (which we were warned was more of an object d'art) and a pack full of sweets and dot-to-dots (I guess in case anyone actually did get bored) the day was not only an interesting delve into the minutiae of people's interests but it was also extremely educational.


Some neat (but niche) things I learnt:

- a yellow line lives for three years
- Shia LaBeouf is "a little man"
- By 2014 Jamie Oliver will be the proud creator of the one minute meal
- It takes 200+ jiffy bags and 3 boxes of Harry Potter mini-figs to have a successful Lego trading business
- Most celebrities are wearing height enhancing shoes (except Shia)
- When you are just that hungry you will eat the cucumber and crackers provided, even if they meant to be decorative.

Don't Panic attempt to credit photographers and content owners wherever possible, however due to the sheer size and nature of the internet this is sometimes impractical or impossible. If you see any images on our site which you believe belong to yourself or another and we have incorrectly used it please let us know at panic@dontpaniconline.com and we will respond asap.
---
MORE FROM DON'T PANIC
---